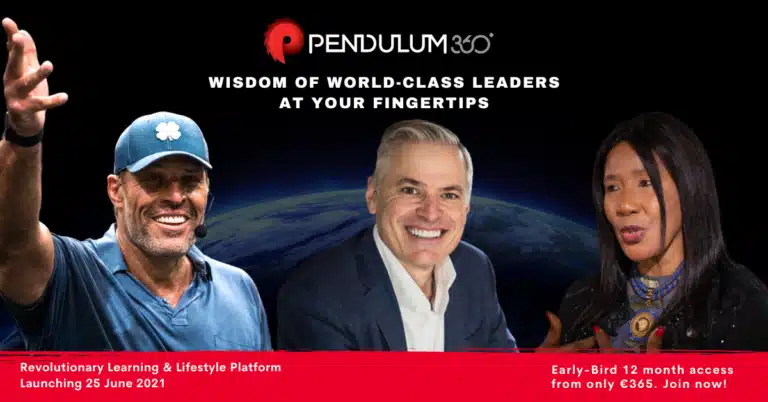 Discover a world of wellness, self-improvement and high-performance training from world-renowned leaders, experts and coaches with the Pendulum 360˚ revolutionary learning and lifestyle platform. It is an amazing, world class individual, client or company solution to enhance physical and mental well-being, performance with purpose, self leadership and a myriad of other personal and career skills.
Pendulum 360˚ Revolutionary Learning & Lifestyle Platform
Up to 12 month membership from ONLY €375 when you book today (€360 when you buy in a group) exceptional benefits below:
Pendulum Inspired Leadership Programme (accreditation pending) with 8 high impact modules. Value of this alone is €2700!
20+ highly targeted micro-learning courses delivered in a 'Netflix-style' format from leading experts such as:

Paul O'Mahony, International Expert on Digital Marketing, Wealth and Mindset
Deanne Berry, Australia's Leading Fitness Experts
Brad Sugars, World's Leading Sales and Coaching Expert
Dr. John Demartini, World's Leading Force on Human Behaviour
David Meerman Scott, World's Leading Marketing and Sales Expert
Dr. Martyn Newman PhD, Clinical Psychologist Specialising in Emotional Intelligence (EQ) and Mindfulness
Jack Daly, World's Leading Sales Speaker and Trainer
Dr Harry Barry, Expert in Mental Health and Wellbeing
Dr Trish Gorman, Professor of Practice in Strategy, Author and Consultant
Phillip Matthews, Former President of NCI, Leading Authority on Organisational Leadership
Andrew McLaughlin, Expert in Emotional Intelligence and Organisational Behaviour
Lynda Byron, Leadership Development Specialist and Executive Coach
Jill Walker, Executive Psychologist and Coach
Sholeh Johnston, Creative Strategist and Expert in Professional Development
Prof Tim Wray, Professor of Practice and Director of Executive Education at University of Warwick
Kingsley Aikins, Leading Authority in Networking and Organisational Development
Mark Bryce, UK's Leading Motivation, Healthy Body and Mind Exper
The Happy Pear, Plant Based Cooking and Lifestyle Gurus
Over 100 Pendulum Summit presentations from Sir Richard Branson, Jack Canfield, Lisa Nichols, Bob Proctor, Dr Deepak Chopra, Randi Zuckerberg and more!
4 Virtual Workshops from Global Experts to drive community engagement and networking:
September 2021: 360˚ Wellbeing
November 2021: Purpose and Performance
February 2022: Self Leadership
May 2022: Becoming The Best Version Of You
Full access to the half-day virtual launch event on June 25th 2021 with Tony Robbins, World's #1 Life and Business Strategist, Dr Makaziwe Mandela, Global Authority on Resilience, Perseverance and Diversity AND Patrick Lencioni, Pioneer of the Organisational Health Movement and World's Foremost Experts on Leadership and Teamwork … entertainment, comedy and other treats also provided!
Fully CPD internationally accredited with certificates of completion and badges that can be added to your CV and LinkedIn profile.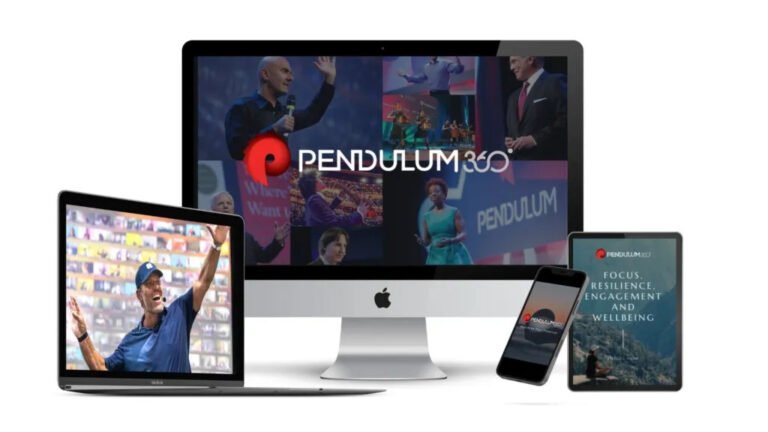 Join today and discover a world of wellness and self-improvement from only €375! That's just over €1 per day! This gives you access to the June 25th event AND unlimited access to all courses, modules and presentations for up to 12 months.
On June 25th, 2021 Pendulum 360˚ will be unleashed to the world! We have a groundbreaking virtual experience in store with transformational masterclasses from Tony Robbins, World's #1 Life and Business Strategist; Dr. Makaziwe Mandela, Global Authority on Diversity and Inclusion, Patrick Lencioni, Global Leadership & Teamwork Sensation; other world renowned experts. You will also be able to explore the platform in its entirety and immerse yourself into a global network of change-makers, leaders and visionaries.