Most MBA Programmes Talk About Great Leaders, Pendulum Is Led By Them.
Join Pendulum 360˚ from ONLY €370 Before Prices Increase This Friday!!
Book today to avail of our Later-Bird prices from only €370 and receive access to the Pendulum Inspired Leadership & all our Pendulum 360˚ membership benefits listed below!
We are delighted to announce that all Pendulum 360˚ members get complimentary access to the world-famous Pendulum Inspired Leadership Programme. This accreditation pending course has something for everyone through its distilled micro-learning format. So, whether you are starting out in your career, looking to drive productivity in your team, or want results fast, this programme ticks all the boxes!
8 High Impact Modules Designed By Leading Academics And Industry Experts
By combining best practice in leadership management with a practical, action-oriented approach, the Pendulum Inspired Leadership Programme stimulates the creation of high impact leaders who can mobilise their teams by immersing themselves in real-world leadership challenges and best-in-class insights from real-world industry experts. This, in turn, delivers greater value to their customers and stimulates measurable profit growth.
Other Pendulum 360˚ membership benefits include:
20+ highly targeted micro-learning courses delivered in a 'Netflix-style' format from Dr Harry Barry (21 days to Armour-plated Wellbeing), John Demartini, Jack Daly, David Meerman-Scott to name a few in Health, Wellbeing, Nutrition, Performance, Self-Leadership and a myriad of other personal and career areas.
Over 100 Pendulum Summit presentations from Sir Richard Branson, Jack Canfield, Lisa Nichols, Bob Proctor, Dr Deepak Chopra, Randi Zuckerberg and more!
4 Virtual Workshops from Global Experts to drive community engagement and networking:
September 2021: 360˚ Wellbeing
November 2021: Purpose and Performance
February 2022: Self Leadership
May 2022: Becoming The Best Version Of You
Full access to the half-day virtual launch event on June 25th 2021 with Tony Robbins, World's #1 Life and Business Strategist, Dr Makaziwe Mandela, Global Authority on Resilience, Perseverance and Diversity AND Patrick Lencioni, Pioneer of the Organisational Health Movement and World's Foremost Experts on Leadership and Teamwork… entertainment, comedy and other treats also provided!
Click on our E-Brochure below for further context, benefits and pricing: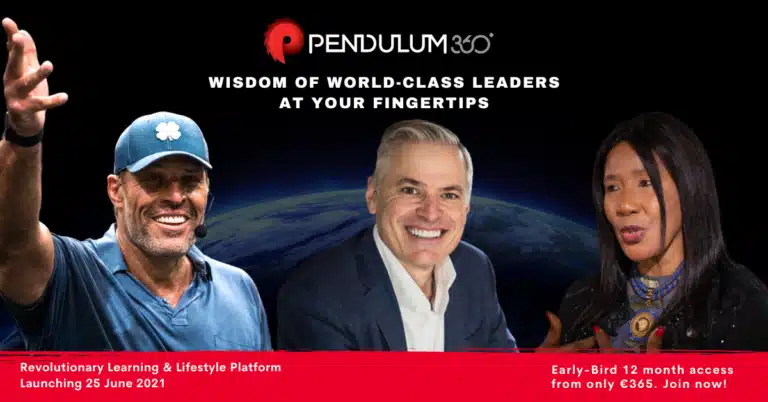 Company Packages & Sponsorship Opportunities:
Corporate packages and full company licensing packages for up to 10,000 people are also available with extraordinary discounts! Email
[email protected]
 for more information.