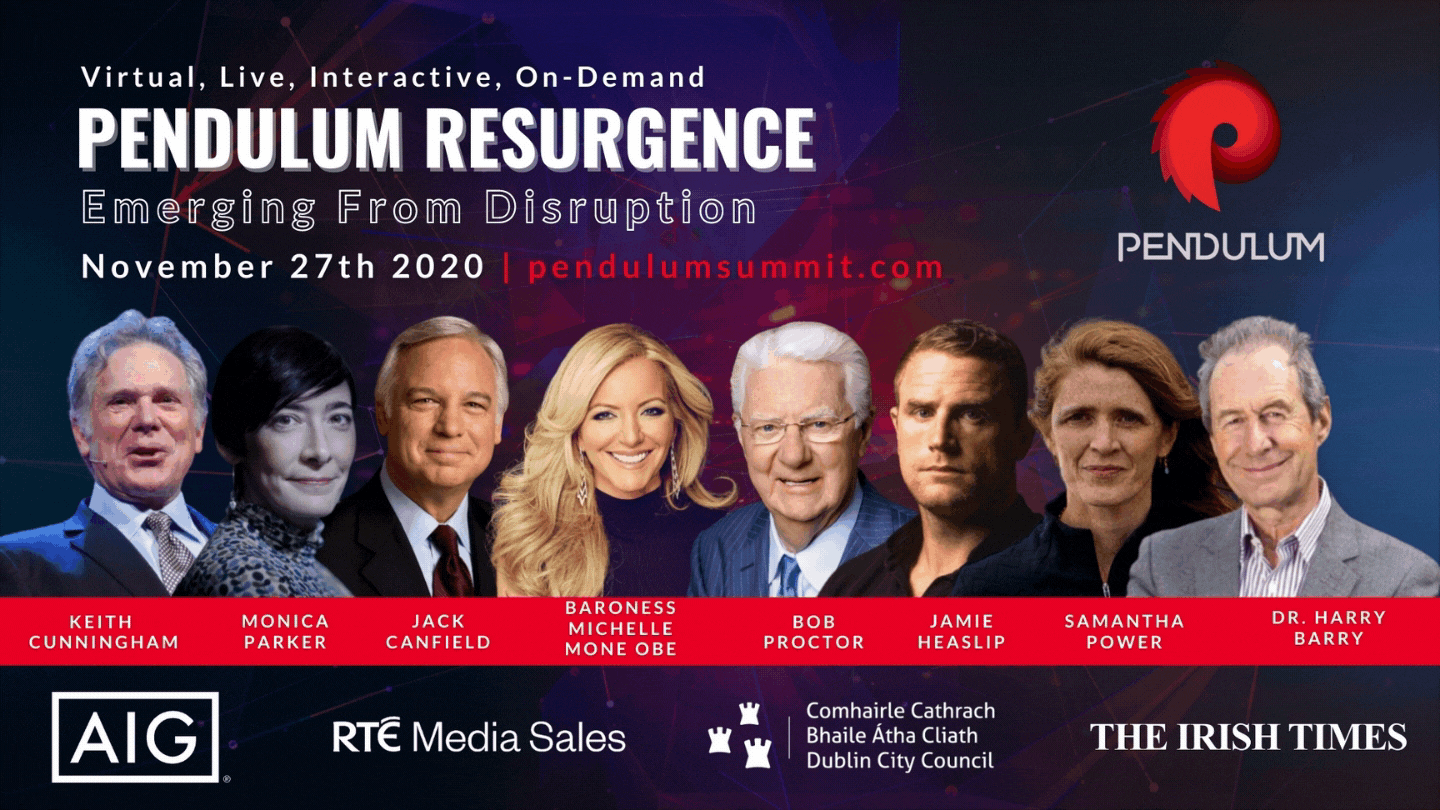 Pendulum Resurgence Event Schedule 27th November 2020 (Subject To Change)
Click Here To Access To The Event Platform
7.00am Virtual Doors Open
Morning: Aerobics Session, Exhibitors, Networking

Deanne Berry, Choreographer and Celebrity Dance Fitness Instructor
Log in, get ready, prepare and explore your virtual surroundings! We welcome you to kickstart your day with an Aerobics Session featuring Choreographer and Celebrity Dance Fitness Instructor, Deanne Berry where we lead you into a series of uplifting and inspirational videos.
9.00am – 10.20am
Business Mastery: Strategies To Emerge Enriched From Disruption

Keith Cunningham, Global Authority in Business Mastery
With more than 45 years of business and investing experience, he has taught critical business skills to thousands of top executives and entrepreneurs around the world. He is an expert at helping business owners turn fledgling businesses into highly profitable companies with explosive growth. In his Business School for Entrepreneurs, he teaches strategies of making great decisions and minimising risk which you can implement even in today's volatile economy. Joining us from Texas to give us the tools to ensure we emerge enriched from disruption, we welcome Global Authority in Business Mastery, Keith Cunningham.
10.20am – 11.25am
Finding Opportunity in Uncertainty (Followed by Coffee Break)

Baroness Michelle Mone OBE, Global Entrepreneur
We kick off this session with Dr. Harry Barry, Leading Authority on Mental Health and Wellness where he will guide you through emotional resilience and how to safeguard your mental health. Following Dr. Barry, we will welcome a Lady with resounding resilience and a daring entrepreneurial spirit. She is a multi-award winning Entrepreneur-turned-Parliamentarian honoured with an OBE from Her Majesty the Queen for her outstanding contributions to business.  She is the Founder of Ultimo Brands International, the UK's leading lingerie brand and is a shining example of how flair and true grit can lead to global success. She is going to talk about her fight to the top, overcoming adversity and how she is still finding opportunities in uncertainty. Joining us from the Isle of Man, will be Baroness Mone of Mayfair OBE.
To carry us into the Coffee Break, we will have a musical treat in store with the wonderful Aimee Banks and Dominic McGorian.
11.25am – 11.35am
Emotional Resilience: How To Safeguard Your Mental Health

Dr. Harry Barry, Leading Authority on Mental Health and Wellness
We kick off the next part of the morning where we will welcome back Dr. Harry Barry, Leading Authority on Mental Health and Wellness. Dr. Barry, who will offer excellent strategies on interpersonal skills and empathy.
11.35am – 12:40pm
The Success System That Never Fails

Jack Canfield, America's #1 Leadership and Success Coach
As the beloved originator of the Chicken Soup for the Soul series, which grew into a billion dollar market with over 500 million books sold, he is America's leading expert in creating peak performance for entrepreneurs, corporate leaders, sales professionals and educators. His compelling message, empowering energy and personable coaching style has helped hundreds of thousands of individuals achieve their dreams. From Santa Monica, to share his Success System That Never Fails, we will welcome America's #1 Leadership and Success Coach, Jack Canfield.
12.40pm – 1.30pm
Lunchtime: Stretch and Mobility Session, Exhibitors, Networking
Deanne Berry, Choreographer and Celebrity Dance Fitness Instructor
During this lunchtime session, Deanne Berry, well-being and fitness phenomenon and her team will be on hand for a stretch and mobility session. We hope you  will enjoy your lunch and come back refreshed and refuelled for an exciting afternoon. Be sure to visit the live Exhibitors and set up a few meetings, find an accountability partner or exchange ideas in the Networking Lounge.
1.30pm – 2.25pm
Performance Through Wellness

Jamie Heaslip, Former Rugby International & Entrepreneur
To kick off the afternoon, we will welcome back Dr. Harry Barry for our final edition of safeguarding your Mental Health. After this, our next guest is a former professional rugby player with Ireland, Leinster and the British and Irish Lions. As well as a massively successful sporting career, he has an impressive academic record including completing the Executive Program in Harvard Business School. He is a passionate Leadership and Executive Coach, with strong beliefs in sharing a common purpose to achieve your goals. Sharing his insights on performance through wellness will be Jamie Heaslip.
2.25pm – 3.00pm
Wonder (Followed By Coffee Break)

Monica Parker, Global Authority on Organisational Change
Our next speaker is a former homicide investigator with expertise spanning 15 years helping businesses challenge their notion of the status quo and see the performance benefits of behavioural workplace transformation. Her research focuses on behaviour change in the workplace, its barriers and its benefits, with a vast knowledge of navigating and communicating organisational change. Her clients have included hyper-growth tech firms such as LinkedIn, Google and Microsoft. So many businesses – large and small are being forced to change, and our next speaker will not convince us to embrace this accelerated change but to view this opportunity in uncertainty as a welcome creative transformation. Joining us from London will be Global Authority on Organisational Change and the Future of Work, Monica Parker.
Following Monica's presentation and to lead us into the break, enjoy a musical interlude from the supremely talented Ruby O'Kelly.
3.00pm – 3.30pm
What Can One Person Do?

Ambassador Samantha Power, Former U.S. Ambassador To The U.N. & Pulitzer Prize-winning Author
Our next guest has been named one of Foreign Policy's Top 100 Global Thinkers and has twice been selected as one of TIME's 100 Most Influential People. She was the youngest ever U.S. Ambassador to the U.N. and is considered to be the moral compass of American diplomacy. Widely known for her 2003 U.S. Ambassador to the U.N book, A Problem from Hell: America and the Age of Genocide, she has been a powerful crusader for U.S. foreign policy as well as human rights and democracy since she took office in 2013. From 2013 to 2017 she served as the 28th U.S. Permanent Representative to the United Nations, as well as a member of President Obama's cabinet. President Obama has called her one of our foremost thinkers on foreign policy. To offer an urgent response to one of the pressing questions of our times, 'What can one person do?' we are delighted to welcome Ambassador Samantha Power.
3.30pm – 5.00pm
Change Your Paradigm, Change Your Life

Bob Proctor, World's Foremost Life and Business Coach
Our final speaker of the day will share with you how a paradigm is formed and how to adjust it for long-lasting results. He is synonymous with success to millions of people across the globe. Long before his role in the movie The Secret sent him into the realm of superstardom, he was already a legendary figure in the world of personal development. His insights, inspiration, ideas, systems, and strategies are the dimes on which countless lives have spun — the sparks that have ignited career transformations, personal epiphanies, inner awakenings, and the creation of million-dollar fortunes the world over. Joining us from Toronto to show us if we change our paradigm we can change our life, is Bob Proctor.
Following Bob's presentation, our final act will add the ultimate crescendo to this fantastic event. Her limitless talent will inspire our hopeful hearts to soar. We hope you enjoy the sensational Leah Barniville.
5.00pm – 7.00pm
Evening: Grab Your Boxing Gloves, Exhibitors, Networking
Deanne Berry, Choreographer and Celebrity Dance Fitness Instructor
The last session of the day (and for those of you brave enough) you can join Deanne and her fitness team in the Auditorium for the final fitness session of the day – grab your boxing gloves! The Exhibitor Area and Networking Lounge will stay open after the show so we encourage you to continue the conversation, share your thoughts and celebrate with your fellow delegates.
Pendulum Resurgence Virtual Presenters:

Gina London, Global Expert on Leadership Communications