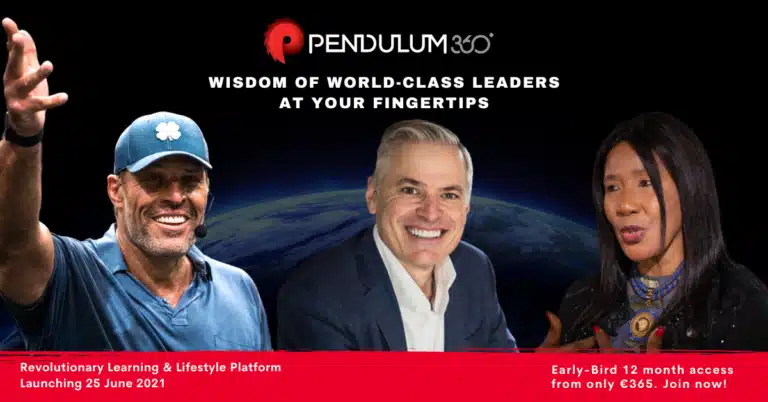 Our Bounce-Back Membership is launched! Join now from just over 1 euro per day with access of 12 months
Book your place today with our Later-Bird prices from only €370 and receive full access to 100's of Pendulum Summit presentations including Dr. Bob Rotella, World's Premier Sports Psychologist, the world-class Pendulum Inspired Leadership Programme, and lots more membership benefits listed below!
Rory McIlroy recently revealed he started working with mental coach Dr. Bob Rotella after he ended his 18-month winless drought with victory in the Wells Fargo Championship. At the time he said:
"I've read all of his books over the years and find what he says really interesting and appealing. I think this could make a couple of shots' difference in tournaments and hopefully turn my top-threes and top-fives into wins."
Special Video Preview: Dr Bob Rotella on the Importance of Believing in Yourself:
Other Pendulum 360˚ membership benefits include:
20+ highly targeted micro-learning courses delivered in a 'Netflix-style' format from Dr Harry Barry (21 days to Armour-plated Wellbeing), John Demartini, Jack Daly, David Meerman-Scott to name a few in Health, Wellbeing, Nutrition, Performance, Self-Leadership and a myriad of other personal and career areas.
Over 100 Pendulum Summit presentations from Sir Richard Branson, Jack Canfield, Lisa Nichols, Bob Proctor, Dr Deepak Chopra, Randi Zuckerberg and more!
4 Virtual Workshops from Global Experts to drive community engagement and networking:
September 2021: 360˚ Wellbeing
November 2021: Purpose and Performance
February 2022: Self Leadership
May 2022: Becoming The Best Version Of You
Full access to the half-day virtual launch event on June 25th 2021 with Tony Robbins, World's #1 Life and Business Strategist, Dr Makaziwe Mandela, Global Authority on Resilience, Perseverance and Diversity AND Patrick Lencioni, Pioneer of the Organisational Health Movement and World's Foremost Experts on Leadership and Teamwork… entertainment, comedy and other treats also provided!
"Click on our E-Brochure for further context, benefits and pricing!"
Company Packages & Sponsorship Opportunities:
Corporate packages and full company licensing packages for up to 10,000 people are also available with extraordinary discounts! Email [email protected] for more information.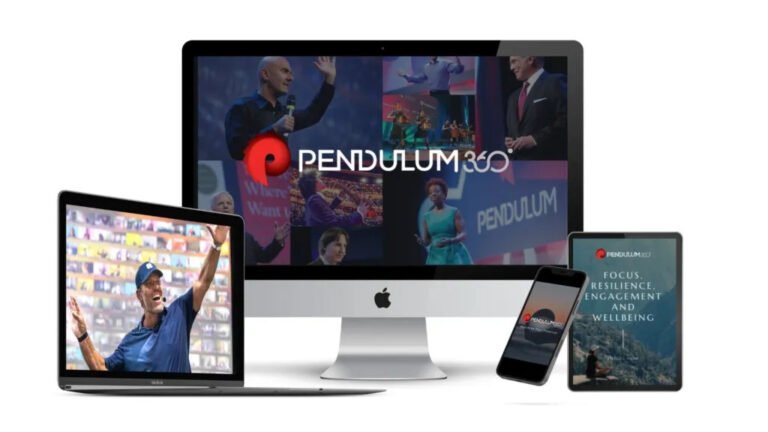 Pendulum 360° is a revolutionary Learning and Lifestyle Platform dedicated to fuelling Peak Performance and Holistic Wellbeing. This unique platform has been developed with our 1000's of Pendulum followers in mind who have told us they want a one-stop-shop for all things Wellbeing, Nutrition, Exercise, Mindfulness, Leadership, Career, Business, Relationships and more!
In true Pendulum style, we have meticulously selected 100+ micro-learning courses and content from the best teachers and trainers in the world and delivered them in a 'Netflix-style' format of highly targeted bursts of micro-learning. This is complemented by an engaging community feature and pathways for learning.
On June 25th, 2021 Pendulum 360˚ will be unleashed to the world! We have a groundbreaking virtual experience in store with transformational masterclasses from Tony Robbins, World's #1 Life and Business Strategist; Dr. Makaziwe Mandela, Global Authority on Diversity and Inclusion; other world renowned experts. You will also be able to explore the platform in its entirety and immerse yourself into a global network of change-makers, leaders and visionaries.
Email [email protected] for more information!