As the global spread of the coronavirus is forcing a rethink of public events and large gatherings, we have the perfect solution to ensure your organisation stays ahead of the game. The Pendulum Inspired Leadership Programme is now available online.
Professionally designed and easy-to-use, this Inspired Leadership training is the ultimate 8-course tasting menu for time conscious leaders who want to discover the latest leadership trends; reconnect with their inner leader; and build their leadership repertoire with the most advanced approaches to leadership excellence.
We've done the hard work for you by sifting through hours and hours of world-class content to bring you the core fundamentals of leadership excellence. Created in partnership with distinguished academics and industry experts, this online programme explores the fundamentals of leadership through 8 hours of intense learning based on 8 core modules.
The structure of the online programme gives you the flexibility to complete the programme in one go, or spread out your learning into bite sized pieces – depending on your schedule.
Online "Spring Special" for only €1,495 (normally €2,295, Save €800). Group rates available.
Email [email protected] for more information.
8 High Impact Modules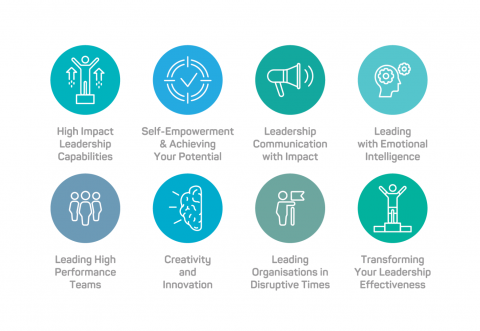 Recent/Upcoming Workshops
Last month, the Pendulum Inspired Leadership workshop series kicked off with the first of our 3-Day intensive workshops in Dublin.
In what was a highly interactive and real-world focused three days of leadership development, our exceptional facilitators Phillip Matthews, Andrew McLaughlin and Gary Keegan challenged each participant to shift their perspective on what's possible for themselves and their organisations.
Feedback from the fully subscribed workshop was immense with 98% rating it as either "Excellent" or "Very Good".
What they loved most was the deep dive they took into critical areas within High Impact Leadership, Emotional Intelligence, Story-telling for Leaders, and High Performance Teams.
We have more workshops planned for June 2020.
June 2, 3, 4 in Dublin covering the following themes:
Transforming Your Leadership Effectiveness
Self-Empowerment & Achieving Your Full Potential
Communication With Impact / Core Principles of Influence
Due to phenomenal demand, we are planning to run the first workshop again on June 23, 24, 25 in Dublin covering the following themes:
Leading High Performance Teams
Leading with Emotional Intelligence
High Impact Leadership Capabilities
Places are selling out fast!
Our "Spring Special" is available for a limited time only. €1,895 (normally €2,795, Save €900). Group rates also available.
Book now on pendulumuniversity.com or email [email protected] for more information and group rates.
Customised Solutions/CPD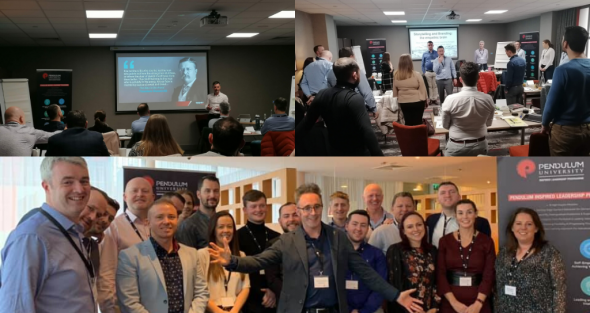 We accompany and support your leadership development. In this way, we help you on your way to / as a high-performance organisation through executives, managers, and experts who deliver top performance. Your challenges are our motivation to always look for the latest solutions and topics in the field of leadership training.
All participants receive a Pendulum University Certificate of Attendance on successful completion of the Pendulum Inspired Leadership Programme. This can be added to their CPD portfolio.