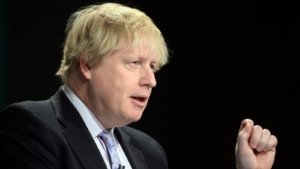 One of the most talked-about figures in the British Isles right now is Boris Johnson.
He will be speaking in a dual slot at Pendulum 2019, delivering a 25 minute presentation before locking horns with the great Bryan Dobson; lined up to challenge Boris on his stance on Brexit as well as an array of other issues.
With just three days and less than 50 places remaining until Hudson Taylor kick off Pendulum 2019, Boris has released a statement explaining his appearance, as well as his thoughts on the future of Ireland's relationship with the United Kingdom post-Brexit.
Frankie Sheahan, our Founder and CEO, spoke with Boris at length last week, learning that he may be about to share some interesting and unheard stories on the Pendulum Summit stage. 
"When I was Foreign Secretary, my Irish counterpart Simon Coveney came into my office, saying 'let's build a bridge.'
"He wasn't being metaphorical; He was entirely serious. The friendship and partnership between the UK and Ireland is so huge, and growing, that the day is surely coming when we should build a fixed link of some kind.
"Here in the UK we eat vast quantities of cheddar cheese, and 82% of it (an astonishing 78,000 tonnes a year) comes from Ireland. We drink prodigious quantities of Irish drink, and we depend upon Irish talent in every walk of British life.
"And the traffic goes the other way; the UK exports more to Ireland than to China, India, and Brazil combined. This trade is vital for both our countries. It creates jobs and prosperity on both sides of the Irish Sea.
"If we get Brexit right, then I have no doubt that we can not only protect that trade but watch it grow at pace. As for Simon Coveney's bridge; he is of course brave and right, and the idea should be seriously examined."
There is just 50 places remaining for Pendulum Summit 2019, which takes place this January 9th and 10th in the Convention Centre Dublin, on the banks of the Liffey. Don't miss out on our best lineup yet; secure your placenow if you haven't already.