Introducing Pendulum Summit
Event Information: Pendulum is the World's No.1 Leadership & Self-Empowerment Summit. Pendulum is the fastest way to supercharge your team and your business. Our contagious energy and game-changing insights have impacted profoundly on the lives of thousands worldwide. Our mission is to enable individuals, entrepreneurs and businesses to achieve excellence. We do this by bringing the best minds from around the world to our two-day cutting-edge gathering to ask them to stimulate transformative, game-changing and visionary thinking.
Since the inaugural Pendulum Summit Dublin in January 2014, the event has exploded from a one-day inspirational event with 500 delegates to a multi-day event extravaganza with an eclectic mix of 8,000 CEOs, Business Influencers, Senior Managers and Thought Leaders who have an insatiable appetite to constantly improve and revolutionise how they live and work.The high calibre of our visionary keynote speakers embody the world-class nature of the event and have included some of the biggest around. Sir Richard Branson, Tony Robbins, Bear Grylls, Jack Canfield, Randi Zuckerberg, Perfumer Jo Malone CBE, Dr Joe Dispenza, Olympian Kelly Holmes and Dr Deepak Chopra are just some of the names that have spoken at Pendulum Summit Dublin, New York and virtually.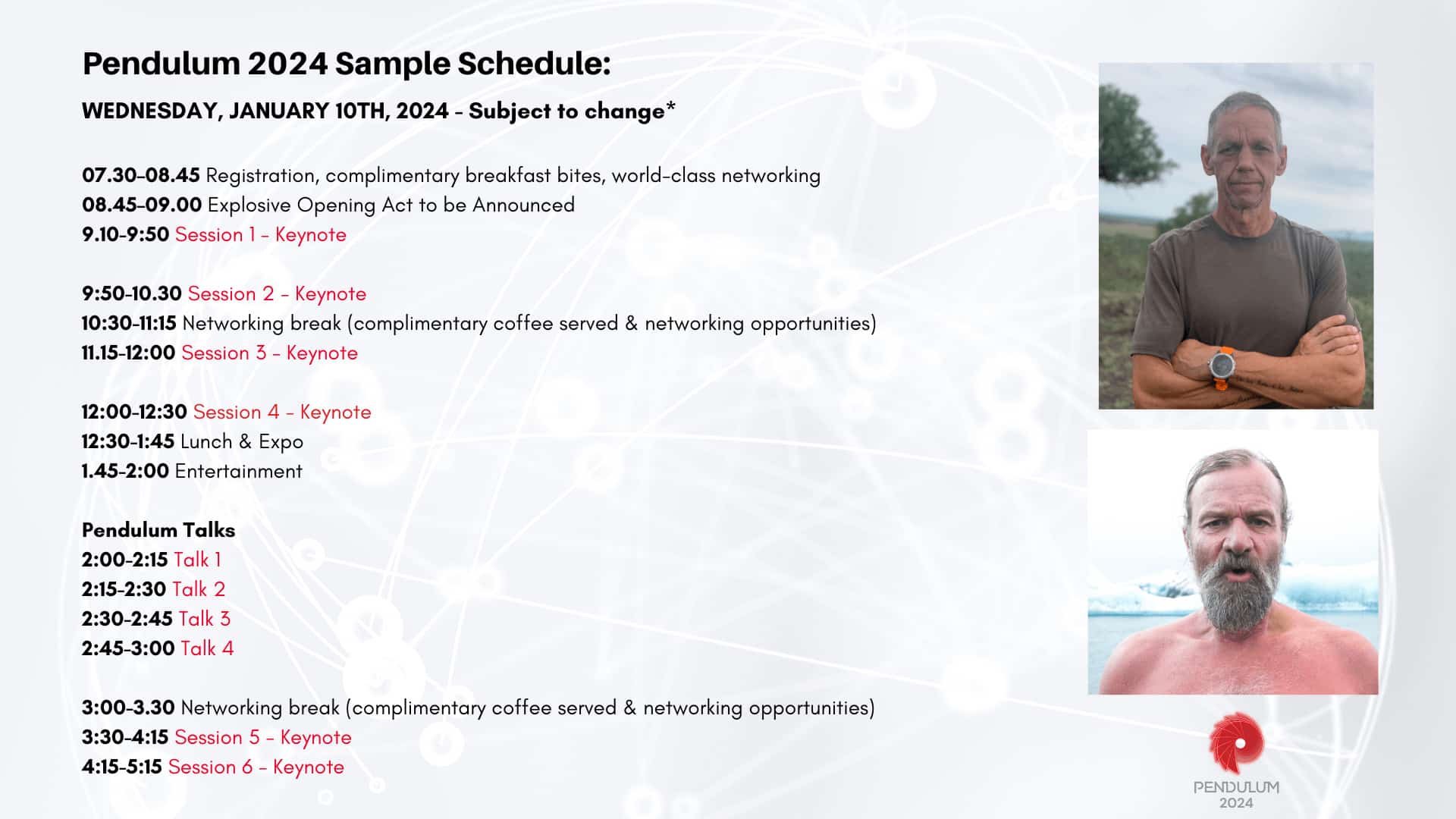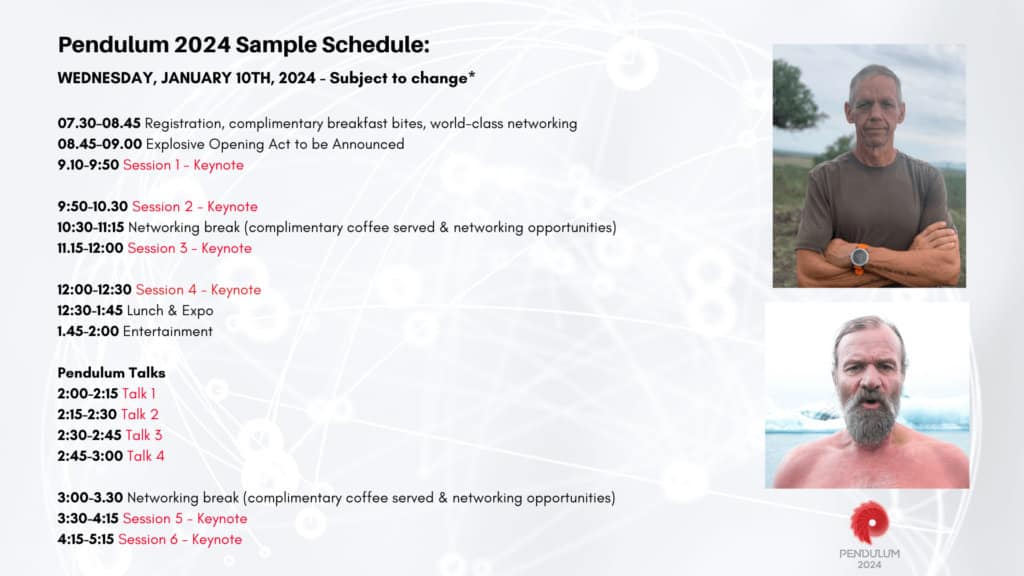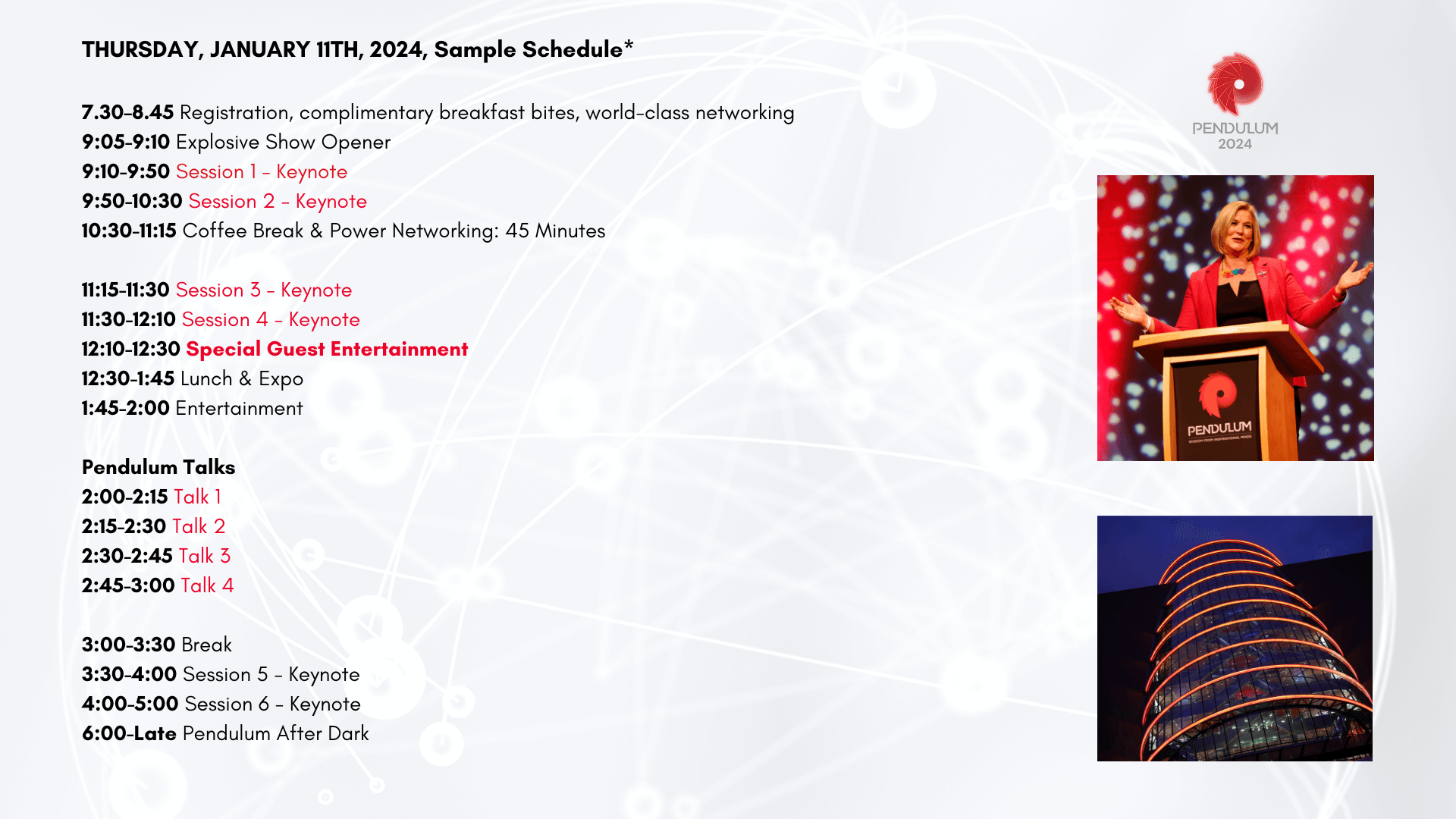 Pendulum Summit After Dark
Keep an eye out for an announcement for our after party location
If you still have not had your fill of Pendulum and want to continue celebrating with the team and other attendees then join us at Pendulum After Dark. More information will be announced in due course.
Event Details: Time: From 6pm – 10pm
What date is Pendulum 2024?
January 10th & 11th, 2024
Where is Pendulum Summit 2024?
The Convention Centre Dublin
Are my tickets transferrable?
Yes, you can attend on day 1 and a colleague or a friend can attend on day 2. You just have to assign them a ticket before they arrive.
Will the event be live-streamed?
Yes, the event will be live-streamed and available on demand for those that purchase a live stream option.
When will I receive my tickets?
How do I check in on the day?
Make sure to assign and complete your ticket prior to the event. Check your spam if you have not received your tickets or get in contact with us and we can help you out. On your way into the Convention Centre Dublin we will be at registration desks to welcome you.