Pendulum Donates €25K To Cork Simon Community
---
Pendulum Summit has helped transform the lives of countless people and we are committed to transforming more in the future. As an example of our Give Back initiative, Pendulum Summit collaborated with Tony Robbins following his appearance at Pendulum Summit. Below, you can see the presentation of €25K of this donation featuring Pendulum Founders Frankie Sheahan and Norma Murphy with members of Cork Simon Community. This contribution will go a long way towards combating homelessness in Ireland.
"This is your opportunity to step up and create a compelling future for your community now! Join me in creating powerful, lasting change. The secret to living is giving!"

---

Tony Robbins – World's Leading Life & Business Strategist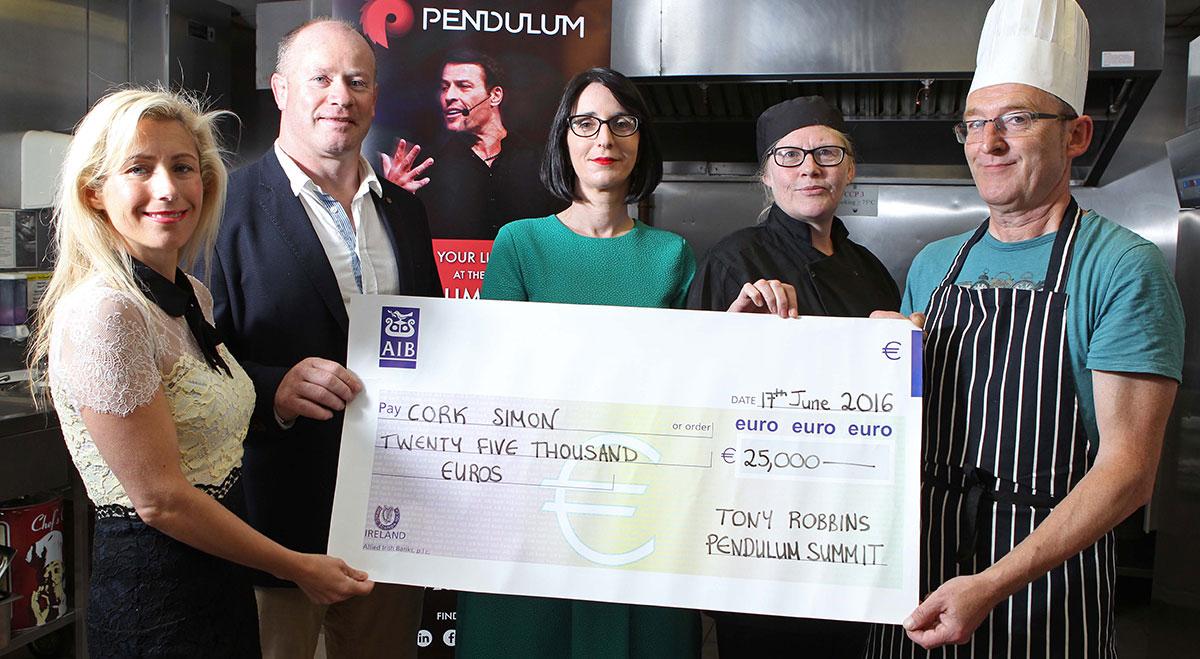 Pendulum Give Back Initiative
---
The Pendulum Give Back Initiative was launched in 2017 as a pilot programme in conjunction with but not exclusive to Jobcare Ireland under the guidance of Celtech M.D. Darragh Fanning. This initiative aims to inspire those who are most in need of inspiration from the wisdom of those who dare, guidance from those who can see the bigger picture and belief from those who can see someone's true potential.
"I come from an environment where I have not had much interaction with the business world and in ways would feel less qualified and even intimidated at times. This has definitely changed because of the Pendulum Summit. My insecurities went and so did my fears as I mixed and talked with so many people in the professional world.
I learned how business is more to do with relationships than education. That is not to say that education is not important but that the best business is built on good relationships.
To hear the speakers talk about their own struggles and how they overcame them really struck a chord with my experiences in life and gave me fresh purpose to continue with this vision and to believe that with the right mindset, structure and plan anything can be achieved. It made me believe in myself more than I probably did before. Also to get the opportunity to meet with Lisa Nichols was really special and encouraging."
If you, or someone you know, would benefit from attending Pendulum Summit, get in touch.
---