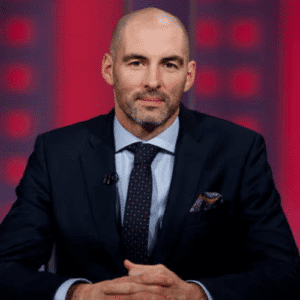 Football Pundit, Motivational & Mental Fitness Speaker
Richie Sadlier is a former professional footballer, currently working as a television pundit, psychotherapist & mental fitness teacher. Since retirement from the professional game, Richie has worked as a football agent, CEO of St. Patrick's Athletic FC, a columnist for the Sunday Independent, and as Head of Youth Recruitment at Millwall's Academy. As well as that Richie is a regular contributor to the Second Captains sports podcasts and to RTE radio. Few, if any, can match Richie's breadth of experience.
Richie Sadlier's football career began with local side Broadford Rovers in Ballinteer. From there Richie then moved to play for Leicester, Celtic, and Belvedere, before moving to South London, aged 17, to play for Millwall. He scored 34 goals in 103 starts for the Lions. Representing the Republic of Ireland at under 18, 19, 20, 21 and senior level, Richie made his full debut against Russia at Lansdowne Road in February 2002. Three weeks later Richie injured his hip and never recovered, and retired in September 2003, aged 24.
Richie Sadlier is now an established member of the RTE Panel, having previously worked for a spell at Setanta Sports TV and BBC London Radio. Richie has contributed a column to the Sunday Independent for over nine years. Richie's willingness to write openly about his own experiences set him apart.
Richie Sadlier's move into the field of psychotherapy came from his own positive experiences in personal therapy. He is now a practicing therapist himself, and is undertaking further training to specialise in working with adolescents. Richie devised a module in mental fitness for Transition Year students which he delivers in St Benildus College.
Having worked in so many different areas of the professional game – recruitment, playing, agency, club administration, print journalism, radio co-commentary and television punditry – in addition to his experience and knowledge in the mental health sector, Richie comes with a range of valuable insights and experience.
Testimonials
"We had the pleasure of having Richie as keynote speaker at our Sales Meeting. What made the day even more special was the content of the talk; Richie was on point and made sure the audience connected easily and was comfortable with the message portrayed.
I believe that having someone local and most importantly someone that the team could relate to, made all the difference on the day.
Absolutely fantastic – What an experience!!"
– Elton Hysa, Director at FMI, Field Management Ireland